Ski touring
About ski touring in Iceland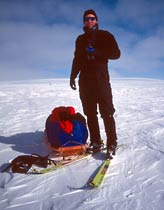 © HB / outdoors.is
A trip on Vatnajökull is one of these things you don't easily forget.
The glaciers and highlands in Iceland offer endless fantastic opportunities for both long and short skiing trips. These areas intrigue and excite everyone who travels there, which is why cross-country skiing is so popular in Iceland. The season generally lasts from March to July. In the early part of the season the lower areas tend to be better, with the glaciers becoming more popular later in the season.
A good map, compass and GPS are all necessary for travelling on the glaciers and in the highlands. But remember the instruments themselves are not enough; you also need to know how to use them because in Iceland you will have to use them. The best maps to use are those with a dense grid specially prepared for use with a GPS instrument. The maps can be bought from The National Land Survey of Iceland (Landmælingar Íslands). Use "Hjörsey 1955" as the map datum unless told otherwise.
Very bad weather can set in unexpectedly and extremely rapidly so it essential that you are well prepared and travel with the necessary equipment. Don't be shy about asking advice from Icelandic mountaineers, especially if it is a winter or spring trip that you are planning.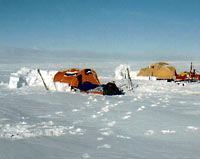 © HB / outdoors.is
Snow walls are used to protect the tends.
Snowdrifts are very common so campers should be wary of placing tents in depressions that are likely to accumulate snow. It takes no time at all for a tent to be covered by a drift. It's common practice to build a snow wall a short distance from the tent to help protect it from the strong, gusty winds.
There are many huts in the highlands. Especially for winter or spring trips, it's recommended that you plan your route so that you can spend the night in one of these huts. If something does happen, it's good to know that the next hut is only a short distance away.
Be aware that all the highland roads are closed to ordinary cars in the winter and spring. Some companies offer tours in specially adapted jeeps that can be driven on snow. Skiers are increasingly using this service as it allows them to begin their trek in more remote areas. For those who have not tried it before, these jeep tours are also great fun.
Some companies offer guided cross-country skiing trips including Icelandic Mountain Guides, From Coast To Mountains Travel, Ferðafélag Íslands and Útivist.