Hiking in Iceland
The availability of hiking guidebooks for Iceland written in English is scarce but getting better. The selection of hiking maps is much better. These are available in books stores and tourist information centres in Iceland.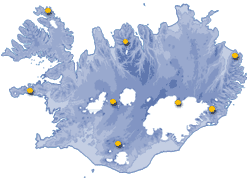 © HB / outdoors.is
You should pick some of those up and carefully select your hiking routes. The routes are many and various. The most famous ones are not necessarily best suitable for you.
Don't get lost
Fog and mist are common in Iceland so you should know how to use a map and a compass. Only the most popular hiking trails are marked with posts, and in the winter and spring these are often covered by snow.
GPS instruments are widely used here. Maps with dense grids for use with a GPS are available from Landmælingar (the National land survey). Use "Hjörsey 1955" as a map datum unless stated otherwise.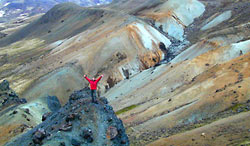 © HB / outdoors.is
The Icelandic landscape is like nothing else.
Remember to book hut reservations
In the summer it is necessary to book reservations in the huts if you wish to sleep in them. This can be done through the owner of the hut.
Most of the huts are open during the summer. Lately, more and more owners are keeping their huts locked in the winter time. We recommend that you arrange for getting a key in timely fashion if you are planning for winter treks. Note that it is forbidden to sleep in the red emergency huts you'll see next to some roads and the coast.
Only a few of the huts have hut wardens and they are usually only there over the summer months. There is a charge for staying in the huts – but it's not much – so please be conscientious about paying even if there is nobody there. The money goes towards the upkeep of the huts, which can be quite expensive after a long, hard winter.
Food is not sold in the huts so don't forget your dinner. In some huts there are gas stoves and cooking utensils, while in others there is nothing. Remember to clean the hut before you leave and make sure all the windows and doors are properly closed.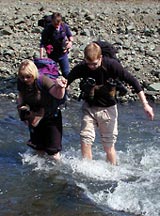 © HB / outdoors.is
It's a good idea to have a spare pair of shoes for wading.
You may need to wade across rivers
On some hiking routes you'll have to wade across rivers. Even on the more popular hiking trails there are few bridges, except across the largest rivers. It's a good idea to have a spare pair of shoes for wading, walking sticks and even a safety line can be helpful.
Bear in mind that the water level in the rivers is variable: after heavy rain or warm weather even the smallest stream can turn into a large river. If you are thinking about walking off the beaten track, it would be wise to study a map first and ask locals about potentially troublesome rivers.
Iceland is pure
It is safe to drink the water from most rivers and lakes away from farms and towns.
Mosquitoes and other bitey things aren't a problem except in a few places close to lakes (e.g. Lake Mývatn in the north). Wandering sheep and horses are the most dangerous beasts you'll meet on the roads in Iceland.
The vegetation in Iceland is sensitive so please try to avoid trampling on it by using hiking paths where you can find them.