Ice climbing areas
Where to go ice climbing in Iceland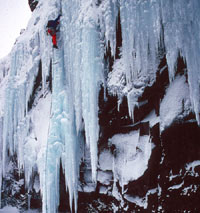 © HB / outdoors.is
In Múlafjall. This is Ice-tea, WI4 40m (130ft).
Múlafjall in Hvalfjörður
Múlafjall is the best and most popular ice climbing area close to Reykjavík. It is a 2-3 km (1.5-2 mi) long cliff face high up from the road. Climbers call the most popular part of the cliff "Leikfangaland" or "Toy Land".
In Múlafjall there are dozens of routes of all grades, most of them single pitch. There are many unclimbed mixed routes here, as well. It's easy to get to the bottom of the cliff and there are a number of safe routes from which you can walk back down from the top.
Múlafjall is usually climbable between November and March. It is located at the bottom of Hvalfjörður on the southern side. The area is about 50km (30 mi) from Reykjavík. You can get there by any type of car. Just watch out that the roads may be very slippery in Hvalfjörður. In fact you may experience very slippery roads anywhere in Iceland in winters time.
Shortly before driving over a bridge at the bottom of the fjord, park your car on the unmarked lay-by. The routes are at approximately 300m (975 ft) elevation and the walk up takes about 20 minutes.
Glymsgil
Dougald MacDonald from Rock and Ice compared Glymsgil to Box Canyon, a famous ice climbing area in Ouray, Colorado USA, except that Glymsgil is three times deeper and virtually free of climbers.
Glymsgil is named after the waterfall Glymur, the highest waterfall in Iceland at 200m (650 ft). It flows in the innermost part of the canyon. There are many short routes that are easy to reach at the opening of the canyon.
Further in are the longer and more serious routes. These are more serious because the river in the canyon is not usually completely frozen and so you have to rappel down into the canyon. Once down, the only way out is up. It's extremely dangerous to try to wade down the river.
However, every so often during heavy snowdrift and cold weather, the canyon freezes over. When that happens, the longer routes get climbed alot.
The best climbing conditions in Glymsgil are often from December to February. The canyon is 4 km (2.5 mi) from the bottom of Hvalfjörður. It's possible to drive 2-3 km (1.5-2 mi) of the distance in a family car depending on the snow conditions. The rest of the way you have to walk. The Icelandic Alpine Club has published descriptions of ice climbing routes in Glymsgil (only available in Icelandic).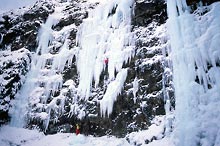 © HB / outdoors.is
Nice routes in Haukadalur. These are 50-60m (165-195ft)
Haukadalur
Haukadalur is a very good, newly discovered area that is becoming increasingly popular with Icelandic climbers. Will Gadd climbed the route Brennivín or "Black Death" in this valley, which has not been repeated. He didn't want to grade the route, but said it was more difficult than the M9 routes he has done previously.
Some 60 routes of all grades have been climbed in Haukadalur. Most of the routes are single pitch, but you need a 60m line for some of them. The main climbing area is a 5 km (3 mi) belt in the valley containing a number of canyons and cliffs. The approach is easy, but you have to rappel down from some of the routes.
The best time to climb in Haukadalur is between November and March. The valley is a 2-3 hour drive from Reykjavík. Take the ring road (#1) heading west out of Reykjavík and then road #60 along Brattabrekka and finally road #586 into Haukadalur. You can get there in a family car.
There is good sleeping bag accommodation at the farm Stóra Vatnshorn. The Icelandic Alpine Club has published descriptions of the climbed routes in Haukadalur (only in Icelandic).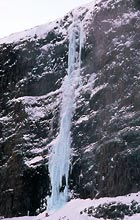 © HB / outdoors.is
Stekkjastaur in Kaldakinn, WI5 120m (400ft).
Kaldakinn in Skjálfanda
Most of the ice climbers live in Reykjavík in the southwest corner of Iceland, and so it really was a mistake of the creator to place Kaldakinn on the northeast corner. If it wasn't so far away it would without a doubt be one of the most popular ice climbing areas.
The routes are usually 50-200m of clean ice. 30 of 50 obvious routes have been climbed. There is a fair avalanche risk in the slopes over the routes and so the area should be avoided after heavy snow or if it looks like there could be some movement on the slopes. It's best to rappel down from the routes once climbed.
The best climbing conditions in Kaldakinn are between November and March. It takes about an hour to drive there from Akureyri. Take road number 1 east from Akureyri, then road number 88 to Húsavík and finally road number 851 as far as it will go - it will get to the farm Björg. Usually you can get this far with a family car. From the farm Björg, it's possible to drive a 4wheel jeep or walk the 2km (1 mi) up to the routes. Driver carefully over the first small stream on that track.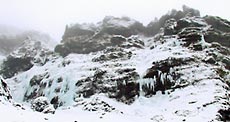 © HB / outdoors.is
There are actually many ice climbing areas in Öræfasveit. This one is only one of them. The routes on the picture are 50-100 m (160-320 ft).
Öræfasveit
Öræfasveit contains the most varied choice of ice climbing routes in Iceland. It's actually a number of smaller areas located very close to one another. It is not long since ice climbing began in Öræfasveit and only a fraction of the routes have been climbed. The walk in time to the routes varies alot and a family car will do, since a 4wheel jeep will usually not help you much.