Off-piste mountain skiing
About mountain skiing in Iceland
The best time of year for skiing off-piste is from mid-February to June. Ten years ago everyone in Iceland used mountain skis. Today telemark is the thing to know. In recent years snowboarding has also gained more popularity in the mountains.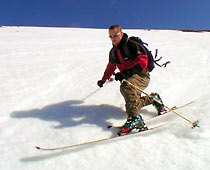 © HB / outdoors.is
Telemarking in June at the north coast of Iceland.
The mountains in Iceland are commonly below 1000-1500m (3250-4875 ft). On Öræfajökull however you can ski down a slope 2000m (6500 ft) from top to bottom. With no trees to worry about (there are very few in Iceland) you can just point down and go, providing there's enough snow. In many places it's possible to drive up to the snow line or higher in specially equipped jeeps.
There are many great skiing opportunities on the glaciers in Iceland, although because of crevasses such trips can be dangerous. Those with little experience of crevasses should avoid such areas. If possible it's always better to persuade someone who knows the glacier to come along with you.
Hard wind-packed snow or firn is common here, and powder snow, unfortunately, is much less common. Of course, there's a lot of seasonal change in the snow. Because of the packed snow, it is usually easy to accent the mountains by using skins under your skis. From March to April you're almost certain to get good snow – at least in some part of the country. Some people prefer the summer snow conditions in May – June.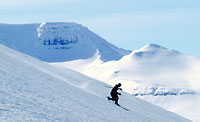 © HB / outdoors.is
With no trees to worry about, you can just point down and go.
The weather tends to be a lot more stable in the later part of the skiing season. As a rule of thumb we say that before Easter it's wise to ski on the smaller mountains closer to settlements, and after Easter is the time to travel further afield and ski the larger mountains.
Pay heed to the weather forecast if you're planning to ski. It is often a good idea to choose two mountains some distance from each other and then let the weather decide which you go for. The trick with this is not to let the forecast decide until the day before at the earliest. If you're going on the weekend, be flexible about which day you go and let the forecast determine it.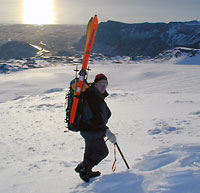 © HB / outdoors.is
On Eyjafjallajökull. The sun reflects in the sea.
Avalanches are a real hazard in the mountains in Iceland. It's recommended that you take and know how to use an avalanche beeper. A light shovel should always be kept close at hand. And of course you should have a map, compass and GPS instrument. Ask about snow layers, avalanche danger and weather conditions in the area before you go.
Bus trips are fewer in winter and spring than in summer, so if you want to travel to mountains in different parts of the country it's often easier to hire a car.