Ice climbing
About ice climbing in Iceland
The ice climbing season extends from the beginning of November to the middle of April. Because of the weather conditions, the climbing here is often very good, although it would be fair to say unstable: the ice is ever-changing. Even in the middle of the season a warm period can completely melt all the ice, but new ice is usually just around the corner. The best ice climbing month is February; you are almost certain to get good ice climbing conditions, especially if you are prepared to travel a bit.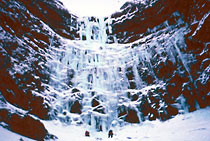 © HB / outdoors.is
Hard or easy, long or short, take your pick. This is Þilið, WI5,120m (400ft), a beautiful classic.
The weather can change without warning so it's always a good idea to check the forecast before you go out and also to keep an eye on it during the day. The weather here changes so frequently that the forecast is often wrong, and if you only go climbing when the forecast is good, you won't climb often. Most of the more popular climbing areas are close to settlements and main roads, so it's not far to go if the weather does turn when you are out.
It is necessary to have a car to go ice climbing in Iceland. The car rental companies are not so busy during the winter months and therefore it's likely that some of them will offer good deals. Just remember to drive carefully – the roads become extremely slippery.
The same grading system is used here as in America, but because of the changeable conditions you should not take the grades too seriously. In addition, Icelanders tend to be rather modest and thus routes are generally under-graded as opposed to over-graded. Some of the WI4 routes here would be classed as WI5 routes elsewhere.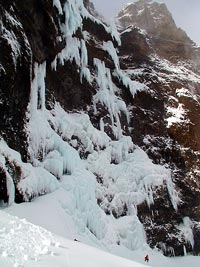 © HB / outdoors.is
There are still countless unclimbed routes in Iceland, both hard and easy. This is an example of a hard unclimbed route. Did you notice the man standing below it?
The Icelandic Alpine club holds an annual ice climbing festival during a weekend in the latter part of February. All the best Icelandic ice climbers can be seen in action over this weekend. The festival is usually held somewhere far away from Reykjavík. If you're planning to come here ice climbing, this would be a good weekend to do it.