Off-piste mountain skiing areas
Where to go skiing in Iceland
Eyjafjallajökull
The Seljavellir route on Eyjafjallajökull is extremely popular, and with good reason: there's a hot pot in Seljavellir. There are few things better than relaxing in a hot pool after skiing down a 1600m (5200 ft) slope. The best time to ski here is between February and June, but be aware that crevasses start to open up in mid season.
The glacier is 2 hours drive from Reykjavík. The ring road (#1) along the south coast leads to Eyjafjallajökull. Turn off on road #242 and then a small offroad track leads to Seljavellir swimming pool. Park your car by the pool and walk directly north towards the highest peak on Eyjafjallajökull, Hámundur, at 1666m (5415 ft). When you approach it, turn slightly to the left and approach the peak from west. The slopes are not steep. Expect a 6-8 hour walk up and down. There are also many other places you can go on this glacier.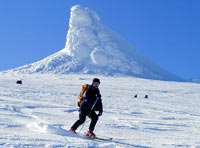 © HB / outdoors.is
Old style skiing in Snæfellsjökull. Today, telemarking is considered 'in'.
Snæfellsjökull
This dormant volcano is known among new age types as one of the seven great power sources on Earth. Whether that is true or not, the glacier is extremely fun to ski and the fantastic view in all directions certainly doesn't spoil the experience. On the low eastern side of the glacier is a ski lift that is open in the summer. Snowmobile and jeep trips are available from Arnarstapi. March to July is the best time to ski here, but be aware that crevasses start to open in May in some places.
The glacier is 2 ½ hours drive from Reykjavík. Take the rind road (#1) heading west from Reykjavík. Shortly after Borgarfjörður turn left onto road #54, and finally onto road #574 to Arnarstapi. It's possible to approach the glacier from all directions, but it is easiest to start from Arnarstapi. The route from the southeast is usually safe. Note that the glacier is steeper directly from the south than from south-east or east. You can ask for information on the snow conditions in Arnarstapi.
Virkisjökull í Öræfajökull
Virkisjökull is one of two popular routes to Hvannadalshnúkur on Öræfajökull, the highest point in Iceland at 2119m (6887 ft). Virkisjökull is an outlet glacier that flows between Svínafell and Sandfell. The route is varied and the view is superb. To do this route you need some experience in glacier travelling. If you're unsure, think about taking a guide along. It's possible to ski down Virkisjökull between March and May although you can walk the route in June and sometimes July when it is becoming risky to ski it.
Öræfajökull is 4 hours drive from Reykjavík and 1 hour from Höfn í Hornafjorður. Park your car somewhere near road #1 close to the glacier. The first part of the route crosses a flat, icy glacier where you often need crampons. You then walk up a snowy slope that is fairly steep in places. Walk along Hvannadalshryggur towards Dyrhamar and up onto Hvannadalshnúkur from the south. From Coast To Mountains Travel and Icelandic Mountain Guides offer guided skiing trips in the Öræfajökull area.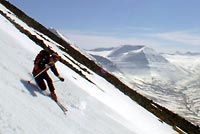 © HB / outdoors.is
Late season skiing in June, in Tröllaskagi.
Tröllaskagi
Tröllaskagi, which lies between Skagafjörður and Eyjafjörður, is loaded with fantastic ski routes. The mountains are on average 1000-1200m (3250-3900 ft) high. The area is easily approachable: just choose a nice slope according to the snow and weather conditions, the kind of gradient you want and then go for it. Whichever slope you pick, you're unlikely to see any other tracks there. The best time to ski in this area is between March and June. During the earlier months there is often a high risk of avalanches.
The mountains in the east fjords
In the area between Borgarfjörður Eystri and Höfn í Hornarfjörður there are hundreds of excellent ski routes. The mountains are a little lower than those in Tröllaskagi, but are more approachable. Again very few people go there. The best time to ski in this area is between March and June. Be aware that in the earlier months there's a fair avalanche risk here, as is the case anywhere in Iceland.