Mountaineering safety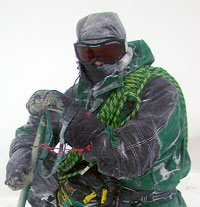 © HB / outdoors.is
During winter storm on Vatnajökull ice cap. Good clothing and gear is essential.
You don't need to obtain permission or any special insurance for mountaineering in Iceland. As yet, nobody has been charged for being rescued, although every so often it is talked about. If you're planning a potentially risky trip, it would be wise to be aware of insurance procedures here.
Dial 112 for emergency but remember that mobile coverage is not perfect
The emergency number in Iceland is 112. In Iceland, GSM mobile phones (900MHz) only work in populated areas or by the main roads.
NMT-450 (Nordic automatic Mobile Telephone system) mobile phones have much better coverage. NMT phones are available for rental from The Icelandic Mountain Guides and Ultima Thule.
It is possible to rent satellite phones for the Irridium system from Siminn.
Most likely you'll get rescued, but don't bet your life on it
The Icelandic Coast Guard takes care of all serious air and sea rescues. Often a helicopter cannot fly because of adverse weather conditions. When this happens, the police and/or the rescue teams are called out, depending on whether the incident has occurred in the lowlands or the highlands.
The rescue teams are groups of volunteers trained in rescue techniques, and the time it takes for them to reach the scene of an incident depends on the situation and the conditions. In general, the teams do their job incredibly well, especially since the members are not paid professionals.
Usually it's the weather that causes problems
If travellers have to call for assistance, it's frequently as a result of the weather. You should always be prepared for bad weather when travelling, that way it's no problem if and when it hits you.
Although the following table is not scientifically produced, it does give some idea of the worst to expect. If you're planning a trip lasting several days in an area where you cannot reach shelter, you must be prepared to deal with these conditions:
| | | |
| --- | --- | --- |
| | Summer travel | Winter travel |
| Lowlands | 2 ºC (35 ºF), 15 m/s (30 mph) winds, rain or sleet | -10 ºC (15 ºF), 25 m/s (56 mph) winds, snow |
| Highlands | -2 ºC (35 ºF), 20 m/s (45 mph) winds, sleet or snow | -15 ºC (5 ºF), 35 m/s (78 mph) winds, snow |
| High mountains and glaciers | -10 ºC (15 ºF), 25 m/s (56 mph) winds, snow | -20 ºC (-4 ºF), 45 m/s (100 mph) winds, snow |
When packing, bear in mind that although the temperatures are not unbearably cold, the wind chill factor tends to make up for it. Lots of precipitation, strong winds and temperatures of around 0°C (32 °F) can be a dangerous combination for the unprepared mountaineer. Even well-designed, waterproof clothing can leave you unprotected, and you will quickly become cold if you stop.
Snow avalanches are common in the winter in Iceland although you don't have to worry about them in the summer. The strong winds cause the snow to move around a lot, so avalanche beepers, snow shovels and knowledge of how to use them are essential for the winter traveller. Avalanches are what Icelandic mountaineers fear the most (we're used to the crazy Icelandic weather).