Local mountaineers
the locals in Iceland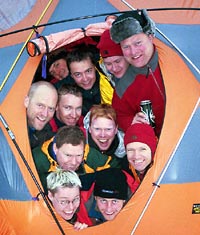 © Stefán Páll Magnússon
A few local members of the Icelandic Alpine Club including the Outdoors.is editor.
Icelandic mountaineers have summited Everest, been to both poles and climbed reputable routes both abroad and at home – not bad for a population of only 280,000. Mountaineering in Iceland is comparable to that in Europe and America: mountain skiing, cross-country skiing and trekking are all very popular. Most types of climbing can be done, although fewer people do it.
Most mountaineers in Iceland are or have been involved with one of the many rescue teams that exist all over the country. All rescue team members are volunteers, and in return for their service, they receive the specialized training necessary to participate in operations such as mountain rescue. In addition, most of these people are also members of the Icelandic Alpine Club. The club sponsors courses, trips and parties and publishes an annual journal.