Huts in Iceland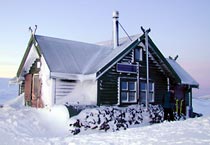 © HB / outdoors.is
Mountain hut in Fimmvörðuháls.
Mountain huts are used by many travellers. The most popular huts are those owned by the Touring Club of Iceland (Ferðafélag Íslands). Other clubs and societies also own huts, while some are privately owned.
Over the summer months we recommend that you book accommodations in huts well in advance. Many huts are kept locked during the winter, so you need to book them and arrange to get a key for them beforehand.